キャンプするのは心を癒やす!についてのネット記事を訳させていただきます・・・
今日の記事:
https://www.progressive.com/lifelanes/adventure/camping-mental-health/
There's no date on this article!
まとめ Summary:
No matter how you shake it, many of us are living through stressful times. Work stress. Home stress. Health stress. Maybe all of the above? If you've found your stress levels escalating lately, maybe it's time to escape into the great outdoors and take a camping trip.
Articles about wilderness therapy and ecotherapy regularly pop up in mainstream magazines, and scientific research suggests that time spent outdoors can help reduce anxiety and mild to moderate depression. Whether you buy a tent or RV, or rent a cabin or glamping tent, spending time in nature is indisputably good for your mental health.
Here are six reasons why!
1. Tiny living is good for the soul
Most of us own too much stuff and spend too much time taking care of it. Embrace your inner Marie Kondo and only pack necessities and things that spark joy. Having less stuff to worry about means you can spend more time hiking, biking, fishing, and pursuing your bliss in the great outdoors.
2. Camping combats nature-deficit disorder
An increasing body of scientific evidence suggests that many Americans suffer from nature-deficit disorder, which basically means we're spending too much time indoors and too much time in front of our screens….
3. Camping gives us opportunities for exercise and healthy eating
Sitting inside all day can be tempting in a house or apartment filled with all of life's creature comforts – you'll be much more likely to spend time outdoors if there's a gorgeous view right outside your doorstep.
4. Camping builds self-reliance
Setting up camp and preparing your own food over an open campfire can teach all of us to rely less on others and more on ourselves. Packing up at the end of a trip also requires a bit of sweat, but putting in a little hard work makes you enjoy all of the fun moments even more.
5. Camping allows us to be social or seek solitude
Camping is a great way to reconnect with family and friends far away from the distractions of the modern world. Spending evenings in conversation around the campfire can refresh your spirit and strengthen relationships with those you care about the most. But camping is also a great activity for those seeking solitude in a gorgeous natural setting.
6. Camping gives us a new appreciation for home
When you return home after a camping trip, you'll find that your spirit has been refreshed and the cobwebs have been brushed away from your eyes. The familiar environment of your home will feel warm and welcoming again.
Hey Simon what do you think? 私に一コメントいわせていただければ・・・
I went camping with my family this weekend, we went up to the north of Okinawa, to Nakijin, and camped on the beach, aannnd…the weather forecast wasn't looking too good, but for once my family really wanted to go, so I thought "ok, well it might rain, but let's go!" and we actually had a great time and didn't get rained on, we made it back home and unloaded all the [luggage from] the car before the rain starts [started]. And that's exactly what the weather forecast said, so I was kind of amazed at how accurate that was this week.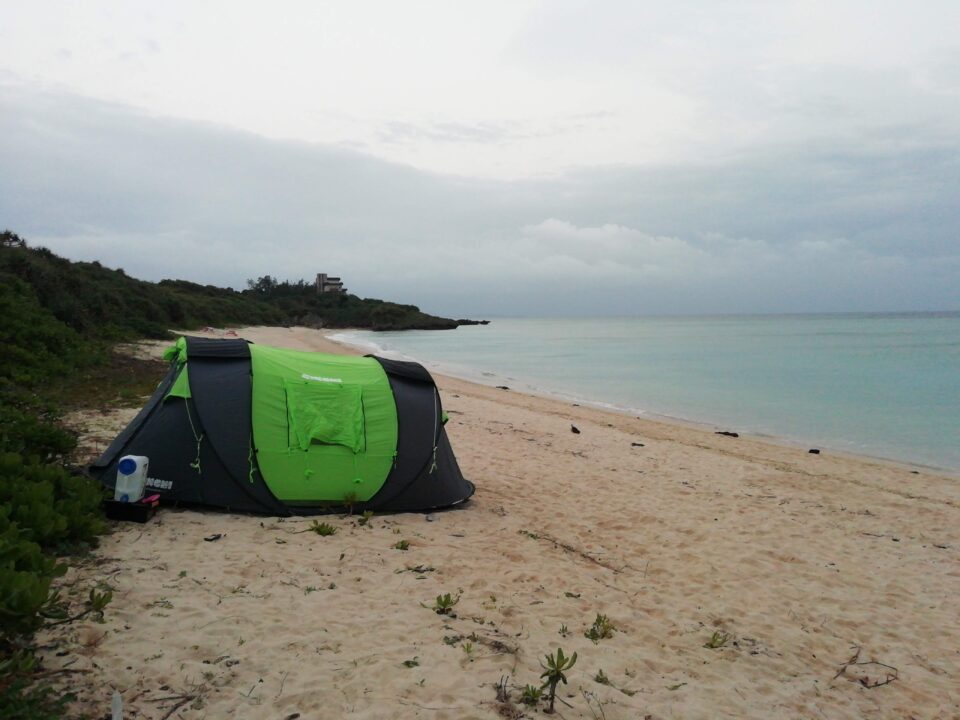 A friend once asked me "How do you go camping" – it's basically trial and error,all you really need is a tent and a sleeping bag and one of those table-top gas…gas table…gas..gas… I don't know the English…one of those table-top gas burners, and a frying pan and some plates….
[start small and simple and close to home – even in your garden!]
I kind of like thinking about how I can do it better next time, because if going camping is easy you can go camping more! So I kind of build up a system, I have like a kitchen box, and um, a bag with all the sleeping bags, so we can get ready to go camping really quite quickly, in under an hour, I think, from deciding to go to actually leaving.
Hey Listeners what do you think? どうぞ自分の"一コメント"をメールで読ませてください
Do you go camping? How do you feel when you go – do you feel better for spending time in nature?
If you've never tried, do you like the idea? Do you think maybe you want to try – what are you going to try for your first trip?
どうも今日も聞いてくださってまことにありがとうございました
私はサイモン・・ うちの家族はそこまでやる気がないけど、私なら毎週キャンプしたい・・・もんでした!
Thanks for listening everybody – see ya!
Credits:
Music by Kajiki  
Sound Effects: https://freesound.org/people/tensaimon/bookmarks/
SNS: tensaimon (instagram: kusaimon)