日本でflower demo (フラワーデモ、花の抗議)は性差別、性暴力を注目させて、ますます増えている社会の動きです。この動きについての英語の記事を訳しながら過ごし解説して、コメントもさせていただきます。
今日の記事:
まとめ Summary:
As night fell on August 11, about 150 people assembled at Gyoko-Dori Avenue near Tokyo Station to protest against a series of rape cases that ended in non-guilty verdicts.
Since the first event in April, the Flower Demoーinitiated by feminist activists Minori Kitahara, Eiko Tabusa and Akiko Matsuo, and held on the 11th day of each monthーhas expanded to 18 cities nationwide and continues to evolve into a larger social movement in Japan.
At the Flower Demo, participants are given the stage to speak up about their experiences of sexual assault. Akiko Matsuo, the feminist publisher of etc.magazine and one of the core organizers of the Flower Demo, said she believes that the "survivors' voices are the most powerful as their voices have the ability to spark change in our society".
This statement already rings true: last month, the Ministry of Justice announced that they will establish an investigative commission to deliberate penal code revisions pertaining to sexual crimes. Matsuo attributes this to the efforts of the Flower Demo, stating that "the voices of the participants were the main driving forces that brought about this decision
Feeling safe participants of the Flower Demo hold up placa rds and bring flowersーa symbol of empathyーto stand in solidarity with the survivors. Perhaps this is one of the many examples of how the Flower Demo has "built an environment where people can feel safe to talk about sensitive topics that are usually shared in closed, private spaces", to draw from Matsuo's words.
Nayu Takahashi was among a dozen speakers who took up the microphone at the August rally. A student at the International Christian University and a member of Voice Up Japan ICUーa student organization that aims to tackle gender inequalityーshe spoke out about her experiences to the public for the first time.
When Nayu was a senior in high school, she was raped by a foreign man she didn't know. "I had never experienced anything more frightening in my life. Before I could even experience true love, my precious body and rights were violated. It altered my life forever," she recounted as her voice trembled.
When she finally summoned up the courage to disclose her traumatic experience to those closest to her, it just resulted in rubbing salt in the wound. Her best friend reacted by making an insensitive jokeー"I hope you two make a cute halfie baby!"ーand her boyfriend told her that she brought this upon herself, while others scolded her to never bring up the subject again.
Her deep psychological wounds were cut even deeper after receiving such comments from the people she trusted most. "I constantly blamed myself, contemplated suicide, and felt ashamed of being a sexual assault survivor." However, when she revealed her past experiences to a gender studies professor at ICU, she found solace in her words. "She reassured me by telling me that I did nothing wrong. I wish someone had given me these words when I needed it most," she recalled.
After a while, she took another bold step by joining Voice Up Japan ICU, where she currently serves as the student representative. "I do not want to stay silent anymore. I decided to join this organization because it is high time that we raise our voices to spare the next generation from having to undergo what I went through".
According to the Cabinet Office, one out of 13 females and one out of 67 males in Japan have experienced sexual assault.
The numbers speak for itself, but it takes an immense amount of courage to speak out about one's experiences of sexual assault. Additionally, the lifelong pain and suffering perpetrators inflict on the survivors are irreversible. Nevertheless, as Matsuo encouraged those assembled at Gyoko-Dori, "talking about our unchangeable past will surely change the future".
Hey Simon what do you think? 私に一コメントいわせていただければ・・・
I think we men need to listen to women on this issue, and I think we can help by talking to our male friends when they say things that sound to us to be sexist or discriminatory.
Hey Listeners what do you think? どうぞ自分の"一コメント"をメールで読ませてください
Have you participated in a flower demo?
In last week's podcast I talked about how Japan does not have a culture of protest – is joining movements for political and social change difficult in Japan?
参考のリンク Related Links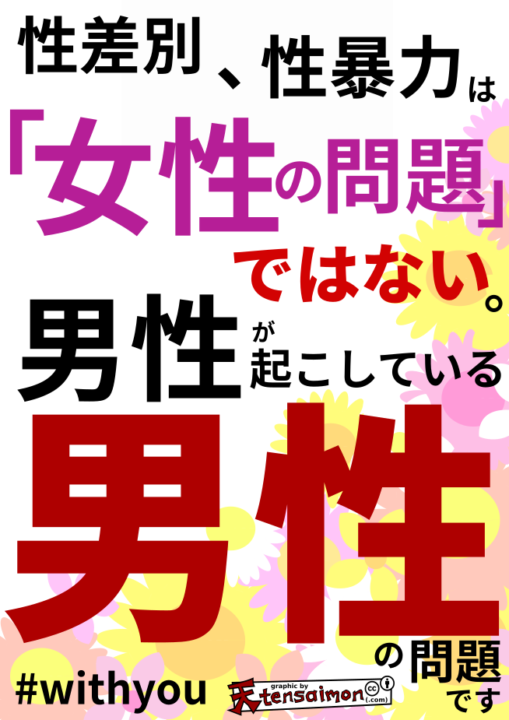 Credits:
Music by Kajiki  
Sound Effects: https://freesound.org/people/tensaimon/bookmarks/
SNS: tensaimon (instagram: kusaimon)